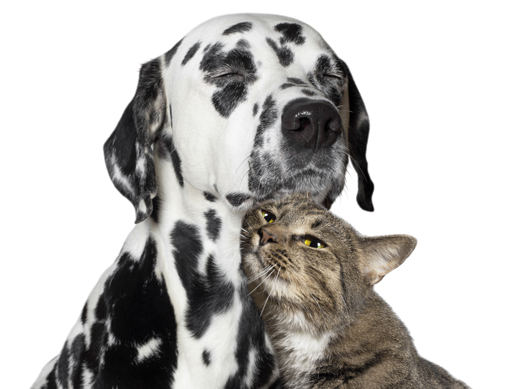 York Animal Hospital's Goal is to Provide the Best Care Possible
At York Animal Hospital, the common bond shared between our staff and clients is a love of animals. Beyond dedicating our lives to the care of animals, all of our staff members—from our doctors to our receptionists and veterinary technicians—are pet owners. We truly understand that your pets occupy a unique and special place in your home because our pets are important and special members of our families too.
For these reasons, our promise to you is to consistently offer your pets the highest standard of care within a state-of-the-art veterinary hospital that is calm, safe and welcoming.
The basis of our promise and the foundation of your pet's health is the thorough practice of preventative care. We recommend yearly wellness checkups, proper dental care here and at home, microchip identification in case your pet becomes lost, and regular screenings for diseases that commonly afflict pets in their senior years. We also recommend appropriate vaccinations and use low volume doses when available.
We also strongly believe that client education and communication are vital aspects of good veterinary care. Our promise to you is that the work of caring for your pet does not begin and end at our door. It is continuous and includes empowering you with the information you need to provide the best and most compassionate care for your beloved pet.
However, despite the most aggressive preventative treatment, our patients may yet experience a periodic illness or injury. The skill, experience and extensive education of the doctors at York Animal Hospital allow us to effectively manage complex medical and surgical challenges, beyond those typically handled in general veterinary practices.
Additionally, our doctors are a cohesive team with a proven record of working collaboratively to resolve complex cases. Each and every one of our veterinarians is fully capable of providing qualified and compassionate second opinions within our practice. We also work along with several outside referral veterinary practices if your pet requires specialized services.
Please take a look at our services on this and following pages. If you have any questions or would like to schedule an appointment, give us a call at (585) 243-5660.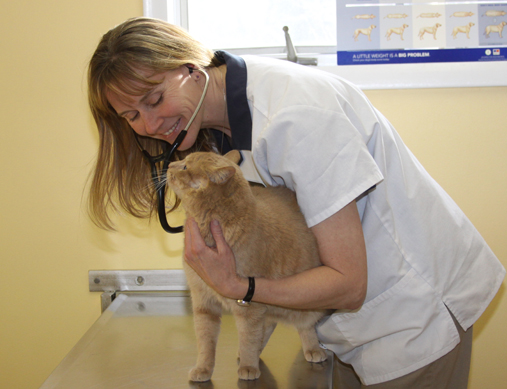 York Animal Hospital Provides Veterinary Wellness Exams
A regular physical examination is just as important for your pet as it is for you. Because your pets can't tell you how they really feel, we recommend a complete physical examination at least once a year, though more frequent exams are encouraged.
A routine examination provides you and your veterinarian with the opportunity to develop a picture of your pet's overall health as well as to spot potential medical issues before they become serious health concerns. It's also an opportunity for you to ask your veterinarian important questions about your pet's health, habits and daily care. We also use this time to inform you about home healthcare for your pet and offer important advice and new information on the care of your particular type and breed of animal.
During your pet's wellness checkup, York Animal Hospital doctors will:
Listen to your pet's heart – Early signs of cardiac disease such as heart murmurs and abnormal heart beat patterns known as arrhythmias can be heard through a stethoscope. Discovering these initial indicators of trouble ahead can lead to identifying and treating the underlying condition before it becomes a more serious health threat.
Listen to your pet's lungs – Health issues such as infections, obstructive diseases and other problems can be detected by listening to your pet's lungs through a stethoscope. The doctor can also assess the overall pulmonary health of your pet.
Check your pet's teeth and oral cavity – Examining your pet's teeth and mouth is an important part of preventing dental disease, which is one of the most common health concerns in pets. Very young animals, such as kittens and puppies, also need to be checked to ensure they are developing an appropriate bite and that they are losing their baby teeth at the right time. We also take the time to discuss proper home dental care with you.
Evaluate your pet's vision – All diseases follow relatively predictable processes and if found early can be more easily treated. Ocular conditions, which can be prevented through regular care and screenings, are no exception.
Look in your pet's ears – As with dental disease, ear disease is relatively common in many types of pets. Issues such as low-grade allergies, swimming or bathing, reactions to certain foods, mites and other parasites can all cause and contribute to otitis or ear infections. Though you may feel this is an area that can be well-handled at home, the fact is that many ear diseases are difficult to detect and require medical treatment.
Palpate the lymph nodes, abdomen and skin – By feeling the skin, we are looking for unusual lumps or swellings as well as evaluating for skin discolorations, lesions or patterns of hair loss or thinning. These can indicate the presence of more systemic problems, especially metabolic diseases, which most commonly occur in middle-aged animals.
Palpate joints and muscles – By examining the joints, legs and other areas of the body, we are able to evaluate for swollen joints, decreased muscle tone and variations in muscle size. We also observe your pet's gait for developmental issues. In puppies, we look for early indications of hip or elbow problems. For older pets, we look for signs of arthritis, which can be well-treated if found early.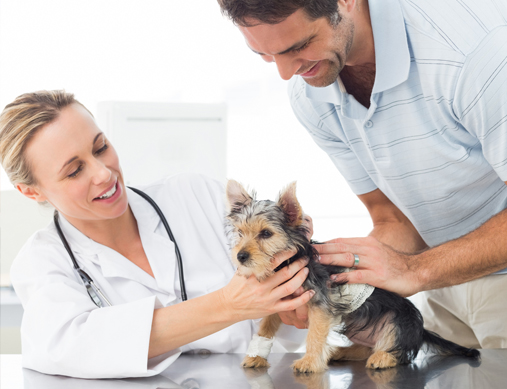 Senior and Geriatric Veterinary Care
Dogs and cats in their senior years may have slowed down a bit, but they are still very loving and satisfying companions to have. They also require a bit more veterinary care in order to keep them happy and healthy as well as to detect the early signs of treatable diseases.
We still recommend regular wellness and dental exams, but also recommend a geriatric exam tailored to your pet's age and condition. Our Senior Pet Wellness Program includes the standard vaccines your dog or cat needs, as well as diagnostic tests designed to help catch any problems associated with aging before they become difficult and expensive to treat.
This program also covers a senior Wellness examination, which includes a complete blood count, chemistry analysis, urinalysis, and physical exam.
Vaccinations: Safe and Effective Preventive Medicine
Vaccinations are not only safe and effective; they are an important and fundamental piece of your pet's preventative healthcare plan. Advances in veterinary immunology have made diseases that once were relatively common and fatal to pets easily preventable. Additionally, with each passing year, veterinary science is improving on existent vaccines as well as increasing our ability to prevent an even wider array of contagious diseases.
York Animal Hospital's vaccination protocol is tailored to American Veterinary Medical Association guidelines as well as your pet's lifestyle and the diseases he or she is most likely to encounter in this part of the country. We recommend appropriate vaccinations and use low volume doses when available.
Our veterinarians truly believe that our carefully balanced approach is the best means to prevent infectious disease and the possibility of your pet having an adverse reaction to a vaccine.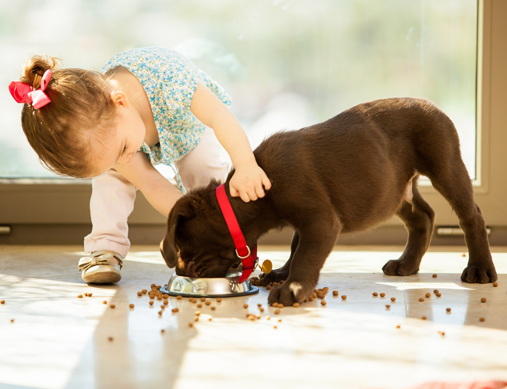 Veterinary Behavior & Nutritional Counseling
Nutritional Counseling
We know how important a quality diet is to your pet's overall health. During your pet's comprehensive physical examination we evaluate his or her body condition and give recommendations. Some pets require special food to maintain optimum health, but all pets benefit from a balanced, healthful diet. We have trained staff available to help you with nutritional challenges for your pet. We can also offer advice and provide information about diets that benefit specific medical conditions such as liver disease, bladder and kidney stones, renal failure, food allergies and other conditions.
The staff at York Animal Hospital is always available to help you choose the right diet for your pet in order to keep him or her happy, healthy and active.
Behavioral Counseling
Behavior problems are the number one reason that owners give up a pet. York Animal Hospital offers behavior counseling for many of your pet's problems including inappropriate urination or defecation, aggression, separation anxiety, inappropriate chewing and barking, introduction of new pets into the household and household pets that are in conflict with one another. Oftentimes a behavior problem, such as inappropriate voiding, can be linked to a medical issue (cystitis, bladder stones, and kidney disease).
York Animal Hospital maintains an extensive library of information about behavior problems. Our veterinarians help you recognize, validate and categorize behavior problems. We will then work closely with you in developing a specific plan to help eliminate your pet's unwanted behavior. However, if our veterinarians and technical staff members cannot help with your pet's behavior problem, we can refer you to a board-certified animal behaviorist.