Kennel Staff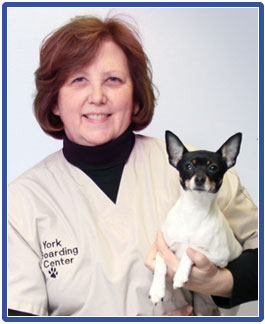 Barbara Kelley, CKO (Certified Kennel Operator), has been with York Animal Hospital since May of 2005. She is the Hospital's Boarding Center Manager and Accounts Receivable Manager.
Asked what she enjoys most about her work, Barbara says, "Working is something of a misnomer for what I do at our hospital. While I have a variety of tasks that need my attention day-to-day, the environment here makes completing these tasks a pleasurable experience. In addition to sharing my day with a group of people who share a love and compassion for animals, they are like family. We are here for each other when life happens, good or bad. There's no place like here."
At home, she has a Napa Pound Puppy named Claudio and three Toy Fox Terriers named Frank, Belle, and Feather. She is a member of the American Toy Fox Terrier Club and DOTCORNY (Dog Obedience Training Club of Rochester New York). She is a breeder and handler as well as a STAR Puppy Instructor.
When not caring for various animals, Barbara and her husband enjoy walking, riding his Harley, puttering around the house, and visiting their kids and grandkids.
Part-Time Kennel Attendant Kim Hackett has been with York Animal Hospital since 2000.
Kim has 2 dogs, Beethoven, 7y, and Winifred, 6y. She also has several cats and 2 horses named Dyna and Blaze. Kim likes to ride her Harley motorcycle and her horses, of course. She also enjoys working on her vehicles and renovating her house.